Students for Hospitality, Hospitality for Students
Welcome to Hospitality, Now! a research-informed initiative dedicated to enhancing employer/student-worker relations in the hospitality sector.
Probes the complex experiences of students who support themselves financially on zero-hour contracts while studying.
Works with student-workers and businesses to make the hospitality sector a more attractive place for all.
Promotes good practice among businesses that employ student-workers.
Engages the student union and trade unions with issues faced by students who support themselves within the hospitality sector while studying.
Calls upon universities and colleges to develop strategies to support students who find themselves in challenging situations in the workplace.
Provides resources for workers, businesses, and industry bodies to review and assess work practices and their impact on student-workers.
Champions a Good Student Employer Charter that businesses can sign up to in return for recognition as a good practitioner of student employment. Businesses that sign up to the Charter will receive training, guidelines on good practice, and signage in the form of stickers and badges for display on the premises.
Organises the annual Hospitality Sector Student-Employer of the Year Award, awarded to the business that displays outstanding student employment practice. Hosted by the University of Lincoln.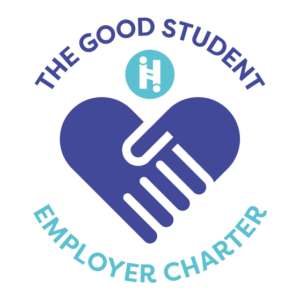 Join the Good Student Employer Charter
Employers can now sign up to the Good Student Employer Charter!
Based on our research into employment practices around zero-hour contracts and student-worker experiences, Hospitality, Now! has established a set of good practice principles and pledges for employers.
The 8F Framework of Good Principles in Student Employment is a worker-centred pathway to change that has been developed following research conducted among student-workers.
Research findings identified the key challenges faced by students when working on zero-hour contracts. They also revealed the specific needs of students relating to flexibility and security when balancing the demands of both work and study.